Trump Travel ban includes Nigeria among five other countries citing security reasons. Here are reasons why Nigeria shoudn't be on the list.
Following the release of Donald Trump's infamous ban in 2017, he has made certain additions. This year, Donald Trump has decided to add Nigeria and five more countries to these lists citing security concerns as his motive. The other countries include Sudan, Myanmar, Tanzania, Eritrea, and Kyrgyzstan.
According to Donald Trump, each of these countries has security gaps around its travels that might expose America to terror threats.
Unfounded Claims
However, Fareed Zakaria, CNN's columnist, says that there is no reason why Nigeria should be a part of that list.
Zakaria also goes on to shed insights on the reasons why Trump's proposed security reasons have no solid foundation.
In his analysis, he brings us to closer to other facts that might genuinely be the reason behind this ban.
For starters, Zakaria talked about research by the Cater Institute states that no foreign-born immigrants from Nigeria, Myanmar, Tanzania, and Eritrea has ever caused any terror-related deaths in America between 1975 and 2017.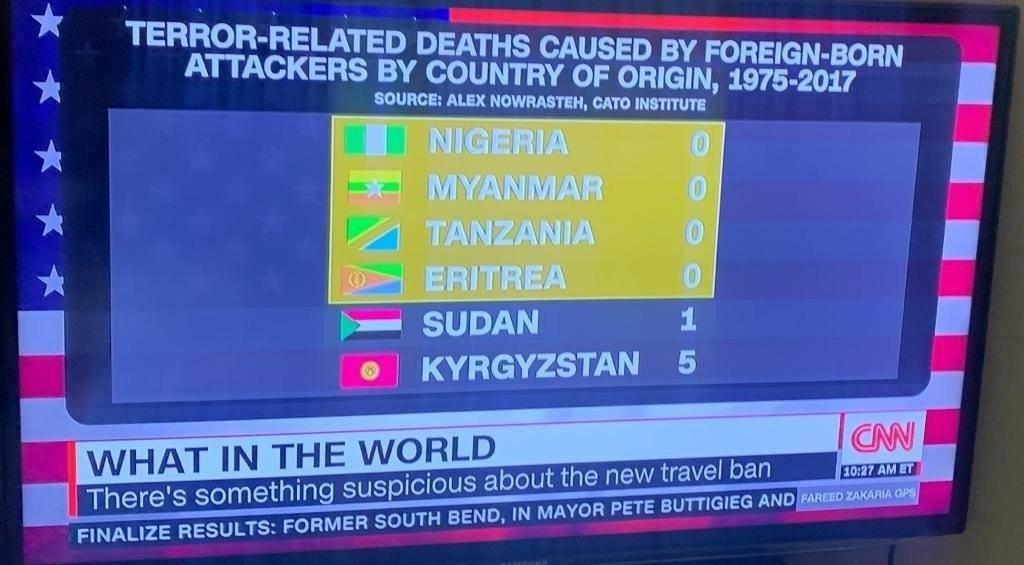 Secondly, the travel ban placed on Nigeria would not affect temporary visas but permanent visas for prominent citizens. This presents a questionable gap in the logic about security since all visas can pose security threats.
Nigerians check all boxes
According to Zakaria, the new travel ban posed by Donald Trump was initially about making sure that only highly-skilled, well-educated, English speaking immigrant who can boost the country's economy.
However, if that should be the objective, then Nigerian immigrants shouldn't be on that list because Nigerians are highly educated, driven, and committed. The Migration Policy Institute further confirms that over 59% of Nigerian adults in the U.S have at least a Bachelor's Degree from their Country of Birth. This is the largest figure and nearly doubles the percentage for Americans.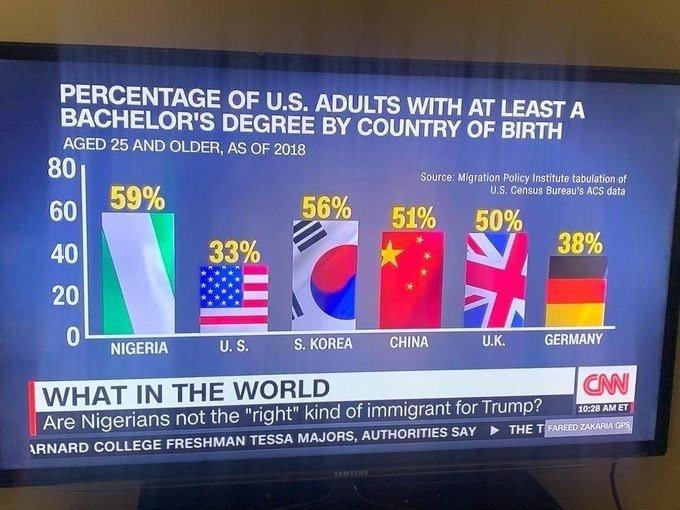 54% of Nigerians are also holding prominent positions in various sectors and contribute enormously to the U.S Economy, which is opposed to only 39% of U.S Born individuals. Lastly, Nigeria is also the U.S's second-largest African trading partner. Therefore, the Travel Ban, according to Zakaria, is driven by false claims.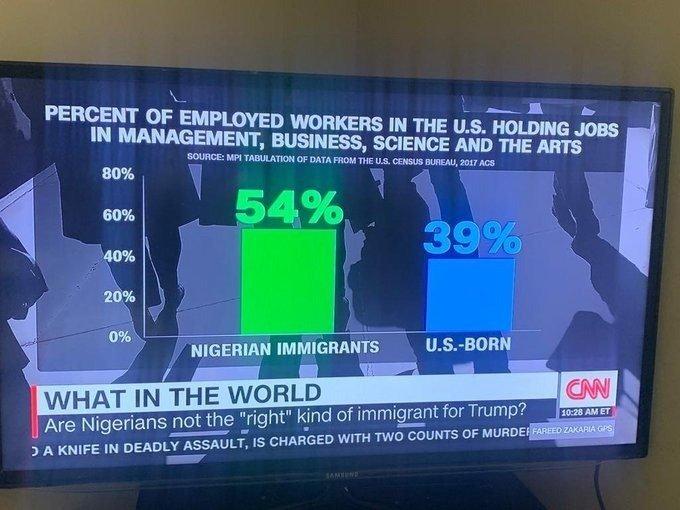 A more sinister plot in the make
Zakaria goes on to share a controversial angle that this travel ban may be purely political. According to Zakaria, Trump has, in several statements, made it known that he dislikes immigrants from "brown" or "black" "shitholes" who wouldn't want to return to their "huts." Zakaria ends with "a loud bang". He says that it could actually mean that Trump is already planning for the next campaign without genuinely looking at the consequences of a travel ban that can do nothing more than hurt America's economy.
You can watch the full analysis by Fareed Zakaria. However, what are your thoughts on this travel ban for Nigeria? Please share your opinions with us.